Welcome to the Official web site of the band Kantation!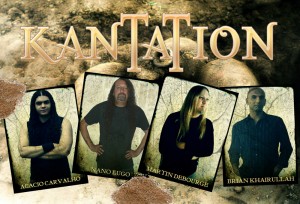 Kantation is a new group based out of Southern California with a penchant for "galloping power metal". The members are seasoned metal veterans with studio and live experience all over the world. The debut CD released September 21st, 2013.
CD BEING RE-MIXED!
Click here to read all about it
Next Show: January 25th presented by House of Metal at Malone's Bar & Grill in Santa Ana, CA – opening for the great Uli Jon Roth (Scorpions)!
CLICK HERE to buy tickets directly from the band. You'll not only avoid the Ticketmaster fees, but you'll get a CD & tshirt with the tix shipped to you at no extra charge.
*site updated 12/2013