2015 Interview with Martin DeBourge of Kantation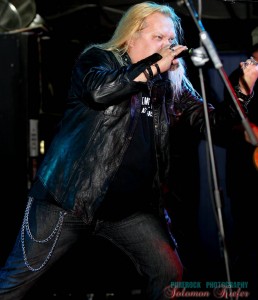 Martin DeBourge recently granted an interview for Robex Lundgren's Music blog. The formatting at the website made it a little tought to read however, so it is cut and pasted below for easier reading.  See the original link here —> CLICK HERE
What are your names? / Who plays what? / How old are you?
Nano Lugo on guitar, myself (Martin DeBourge) on vocals, Jeremy Jimison on guitar & vocals, Jaye Sooter on bass & vocals and Vinny Galore on drums.
Our ages vary ha ha ha, next question.
Have any of you played in other bands?
Yeah. Nano & Jaye have always been a part of the High Desert scene here in Southern California. Vinny was in a pretty established band in Boston called the Bar Flyz… And let's see – I started out with local Southern California rock bands. The first album I ever sang on was with a band called Torman Maxt. I also recorded with Damien Thorne out of Chicago on their "End of the Game" album. Jeremy Jimison and I worked on projects before Kantation, including a prog band called Head Transfer Process
How is it that you started playing music?
For me personally, it was an escape. I didn't have much to latch on to growing up. Never into sports or other activities. I immersed myself in radio and stealing cassettes from the local music stores. I always knew I wanted to sing.  Always.  When a band in my local area needed a singer, I stepped up. I sucked at it.  Not very good at all.  Some years later, I got some training, developed my craft – and plan to go at it until I drop dead.
Have you had other previous members?
Yes. The band was founded with former bassist Brian Khairullah. You may know the name from his work with Deliverance on "Weapons of our Warfare". Brian recorded the first two albums with us and we only recently parted ways.  All perfectly amicable.  He's a stand up guy and we have nothing but love for him.  We just got much busier than I think he expected us to, Jaye Sooter was our fill in guy for shows Brian couldn't make happen.  So when more and more of those shows appeared on our horizon, Jaye was more willing to do those shows. So it was a natural transition.

Did you make music even when you were young?
Sure. Nothing recorded until I was in my teens tho. I'm sure the other guys have similar stories.


Where are you from?
The band is based out of the High Desert of Southern California in a town called Apple Valley.  If you tried to find us on a map, you'd see a single connecting freeway between the Los Angeles in California and Las Vegas in Nevada.  We're in that general vicinity.


What year did the band form?
2013. Within a month of meeting Nano Lugo, he and I set about recording a project that soon became a full length album called "Discovery"


What's your style of genre?
We like to think we're just playing straight ahead traditional metal. However, we find ourselves embraced by NWOBHM as well as The New Wave of Traditional Heavy Metal.  Altho, we've been called "too hard" for some of those groups as well.  It's really all a bit silly to us, because we just play what we want. What comes naturally to us. Not trying to make it accessible by any group.  So far, it's done well for us. So it's worked out.


What inspires you?
As a band? I would have to say real life. All the songs are based on real life experiences. Well, with the exception of "The Nephilim Suite" on our last album "Nephilim" – that one is a purely fictitious concept written by Jeremy.


How often and where do you rehearse?
Every couple weeks or so.  We perform what we wrote, and I'm fortunate to be playing with some world class musicians. So we all show up to rehearsal well practiced and prepared. I think our live show attests to that. Can we be tighter? Of course, and we strive for that.


How have you developed since you started with the music?
I assume you're asking this question about the band and not me personally. And I would say Jeremy being added to the band (he didn't play on the first album) has added a dynamic that has also challenged us in a way.  The upcoming third album will reveal even more of those developments.


Do you have other interests of work outside the band?
Sure I do. I'm an avid reader. I also have a day job as a voice over artist, doing commercials, video tutorials, stuff like that. And when the band isn't playing, I like to go out and support the local music scene.


Are you looking for a booking agency, and what are your thoughts around that?
Hhhhmm, when you clarify "booking agency" and not "management" then I would have to say yes, we are looking for one.  The reason for the clarification is.  I work my ass off.  I've yet to meet a manager or record label that will work as hard as I do… or harder.  They're not tapped into any more resources or privileged to any more connections than I am.  A lot of bands just want the notch on their belt to say they are signed, or have management.  But they find themselves locked into a contract with a company or individual who is doing jack shit for them.  I very much want to be fired from handling Kantation's affairs.  PLEASE give me my walking papers so I can JUST sing.  Managing is tiresome, costly and time consuming.  Not to mention thankless.  I see the value in the paid position… but I'll be damned if I pay a single cent to someone for them to just sit on their ass and do nothing.
OK, I went off on a tangent ha ha ha. Sorry about that.  So, a booking agent, YES!  I'll admit – I have zero connections in that area. The band WANTS very badly to go overseas and play.  Europe has lots of great festivals we'd love to be a part of. South America as well.  We do OK finding shows stateside, but with a third album on the way – it's time for us to branch out. So if someone reading this interview  wants to talk – we're all ears!
Are you looking for a label, and what are your thoughts around that?
Oh shit, I answered that in the question you asked previously. Ha ha ha, my apologies.  I'll answer in a different way.  If there is a label willing to put money behind our tours, manufacture our CDs, print up our tshirts and merchandise, pay for studio time, pay for videos and ACTUALLY distribute our damn music… then yes, we want to be signed.  We wont sign our lives away for someone to do less than we already do ourselves as an indie band.  Do I sound angry? Ha ha ha, I'm really not – but I suspect a label wont waste our time after reading this.


What made you decide to make this music?
It wasn't as much a conscious decision as much as it was something that just happened naturally.  We're all big fans of the genre.  Iron Maiden, Judas Priest, Dio, Sabbath, Savatage, Nevermore, Fates Warning, Armored Saint, Helloween, you name it – that's our music, and we are honored to carry the torch.
Who does the composing and writes the lyrics?
On the first album, that was all Nano Lugo.  For the Nephilim album, it was a collaborative effort between Nano, Jeremy and myself


Do you start with the music or the lyrics?
On the first album, all of that was in place before we began recording. On the second album, it was mostly music first, but some songs started as a lyrical idea. For the third album – we've decided to attack it in a very old school format. Which is to get into a rehearsal room together and woodshed.  Playing off riffs and deciding as a band what life the songs will take on. It may mean the new album wont be ready in 2016 – but it will be worth the time and energy we believe.


Do you compose in a certain environment?
Personally, when I'm inspired to write lyrics, I'll start writing immediately.  I don't care if I'm in a busy restaurant or quiet yard at my house.  Melodies are different for me.  I labor over a melody because it has to be right.  Fortunately melody writing comes very natural to Nano, and I enjoy most of what he submits.  So we're golden in that regard.  As far as Nano's style of composition – I do know he is a ritualistic person. The environment has to be ideal and his head in the right place. So as a band, we give him that space to do so.  Jeremy on the other hand is a lot like myself.  When it hits, he starts writing.  The differences really make for some great work collectively, in my opinion anyway.


Have you done any covers live?
Indeed we have, and still do.  Saxon's Power and the Glory is staple of our live show.  So much so in fact, that we included it on our Nephilim album – and even made a high end production video of it. Which you can see here:  https://youtu.be/x1Z6M4kE_D8


What language do you sing in?
English. Nano speaks Spanish, but I doubt he'd have the patience to go line by line with me to sing the songs in Spanish.  I'd be willing.  Even another language if someone was willing to walk me through the lines, because we'd want it done right.


What are the least and most people to attend one of your gigs?
We're a grass roots band.  Nobody here came from royalty, nobody in this band bought likes on facebook or paid for youtube views.  We went out and recorded our albums, and hit the gig circuit hard.  And still do.  We've been fortunate to pack our local shows, perform at some U.S. metal festivals… but we've also had the misfortune of booking shows with terrible promoters.  Needless to say, there was one gig in Las Vegas of all places, that was ill-attended.  I think the bartender even went home early. The promoter sure as hell wasn't there!


What ages are most of your concert attendants?
We've been lucky in that regard to see the ages run the spectrum from teens to people in their late 50s. Traditional metal has been enjoying a versatile palate with listeners. We love it.


Do you always play the same songs live, or do you vary?
We try to mix it up, especially if we know we'll be playing for a crowd in close proximity to our last show.  I know that for 2016 we plan to launch songs not heard by us in a live setting before. Songs like Dying to Live and Tragedy from the new album.  We'll dig back into the older catalog to play songs people haven't heard from us in a while too, songs like Ride off of the Discovery for example.


Do you have a regular place you play live often?
Well we do a special once a year show here in our home town called The Gathering of The Desert Rats – that one is always fun.  We also host The Throwback Metal Fest in Las Vegas every year. Bands like Ruthless, Heretic, Night Demon, Ashbury, Ninth Circle, Resistance, Cage, Bitch and many others come out for that one. Other than that, Eddie over at the House of Metal in Santa Ana always treats us right.  He's put us on the bill with bands like Helstar, Uli Jon Roth, Graham Bonnet etc.


What was your first gig like?
That was with Dio Disciples.  A great first show for us.  But also a learning experience.  It was the first and only show we played with just one guitar (Nano).  Altho the crowd was very receptive, and that's where we had a great jump start on a fan base, it also drove home the point that we needed Jeremy.  He was with us on every show thereafter.


What was your latest gig?
Opening for Lynch Mob and Fates Warning. But by the time your readers see this, it will have been Armored Saint


Have you had to cancel a gig?
Never. It'd have to be pretty serious for us to be convinced it's the right thing to do.


Where have you played live this year?
Oh, damn, let's see… All over Southern California, Vegas, Chicago, Tucson


Where do you plan to gig the coming year?
We play a show NAMM weekend every year. This time will be no different. That'll be the Graham Bonnet show in Santa Ana.  After that, it's kind of up in the air as we'll focus more on recording album #3.  Probably throw a San Diego show in there. We're passport ready to do go anywhere outside the country! Hint hint


When did you start to sell merchandise, and what do you have for sale?
Right away, first gig.  We've always had tshirts, patches, stickers and buttons in place.  We've been fortunate to work with a fantastic artist named Dusan Markovic out of Serbia, so we make it a point to have his art work on all merch now and in the future.


Where can people buy your merchandise?
Mostly at our shows. Some merch, like our limited run CDs are only available at shows.  However, if you watch our facebook page or even Kantation.com you will be able to buy direct online.


What do you think about people downloading music instead of buying records now a days?
Loaded question. And an answer that I presume will not be a popular one.  While I'm against it, I've also worked around it.  Let's be honest, it can't be stopped.  It just can't.  Not unless we revert to the pre-digital format. And that's simply not going to happen.  I've got a lot of things to focus my energies on – and fighting piracy isn't one of them.  Frankly, it made us a known name in a lot of circles.  It's put people in attendance at our shows. Those people buy CDs, those people buy shirts, those people are our die-hard fans.
In fact, if you're reading this and thinking of NOT buying – and finding a torrent site to download our music instead.  Do yourself a favor and don't risk the virus.  Send us a message, often times in exchange for you sharing our music on your facebook page – we'll return the favor by sending you the mp3s.
How do you think the music industry has changed because of this?
A good friend of mine, Tony Massaro & I talk about this frequently. He likes to refer to our current industry as the Wild West. No rules, nobody knows what the hell we're doing.  We got cowboys, renegades, sheriffs, deputies and law abiding citizens.  But it's still the Wild West. The labels are scrambling to figure out what to do, the bands are too.  In an odd way, I think it's helped force things back to a more desirable primitive state.  It's forced musicians to get out there and play.  And not suck.


What do you think of my work?
It's sexy? Wow, this is a long interview!


How do you think and know that this interview will help you in the music business?
If it gets us invited to Sweden, you'll be given full credit


Do you have any role models or idols?
Martin DeBourge loves Ronnie James Dio


Why do you think that they exist?
Role Models – because people like to aspire to something.  Idols – because Moses needs to know what to be pissed about when he comes down from the mountain with the stone tablets.


Is it easier to find inspiration from older bands, or bands that are more active today?
Both.  Not sure I would equate it to easy.  But there's a lot new bands can learn from older bands, and likewise us older bands are being dicks if you don't at least give newer bands a thorough listen.


What have been your biggest obstacles?
For me personally, being dyslexic and it affecting my ability to memorize lyrics.  I can't even remember shit I wrote.  I get a lot of flack for it, but I've learned to just let people know what it is – and that I am not just being lazy.
For the BAND, our biggest obstacle seems to be not fitting in the preconceived molds of the genre groups. But give it time, they'll come around.
What advice would you give other bands or artists?
Better make sure it's your passion. You'll know if it is or isn't. If it's a hobby, then don't let it get in the way of your relationships, work or lifestyles.  If it IS your passion, then let it consume you.  People dig passion.

How do you get psyched for a gig?
I get pysched for a gig by going to it!  I don't mean that jokingly.  I like to arrive early, support all the bands, and absorb the concert environment.


Do you have any new material?
Working on it now.


What are your web sites?
Kantation.com – and we're slash Kantation everywhere. facebook/, twitter/, youtube/, etc

How can people reach you?
-___-


What are your plans for the future?
Immediate future, get this third album done. Beyond that is up to the fans.


Do you have something to add?
Sure. Thank you for this interview! We love our fans. In fact, they're not fans  – they're members. Which is why we call them The Kantation Nation.
Here's a link for that: https://www.facebook.com/groups/kantation/